Box Seamless Gutter Systems
Proper Sized Gutter Systems in Box and K-Style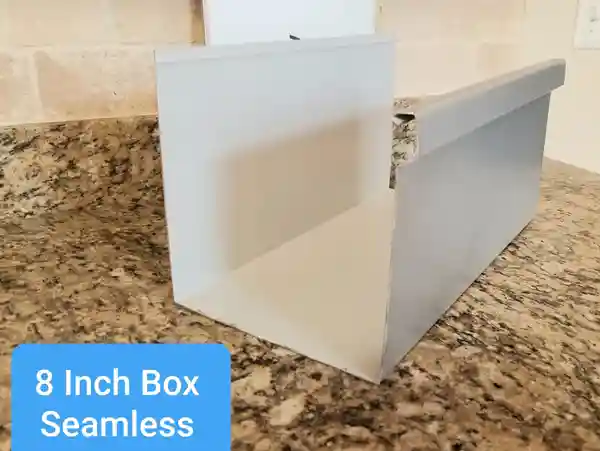 8 Inch Big Box Seamless Gutters can be manufactured in (.050 – .040 & .032)  Aluminum 

24 & 22 Gauge Galvalume and Steel – 20 oz Copper

Paint Finishes – Kynar 500 

Profile comes smooth or ribbed on the bottom to prevent oil canning.

Coil Width – 24 Inches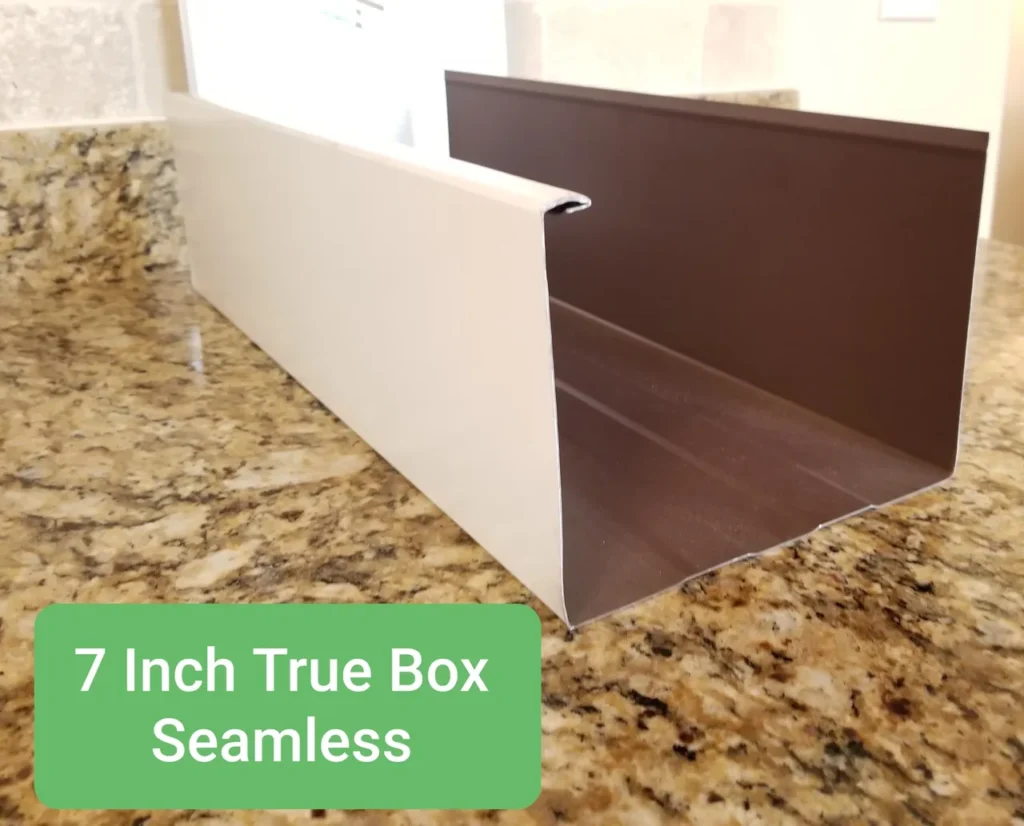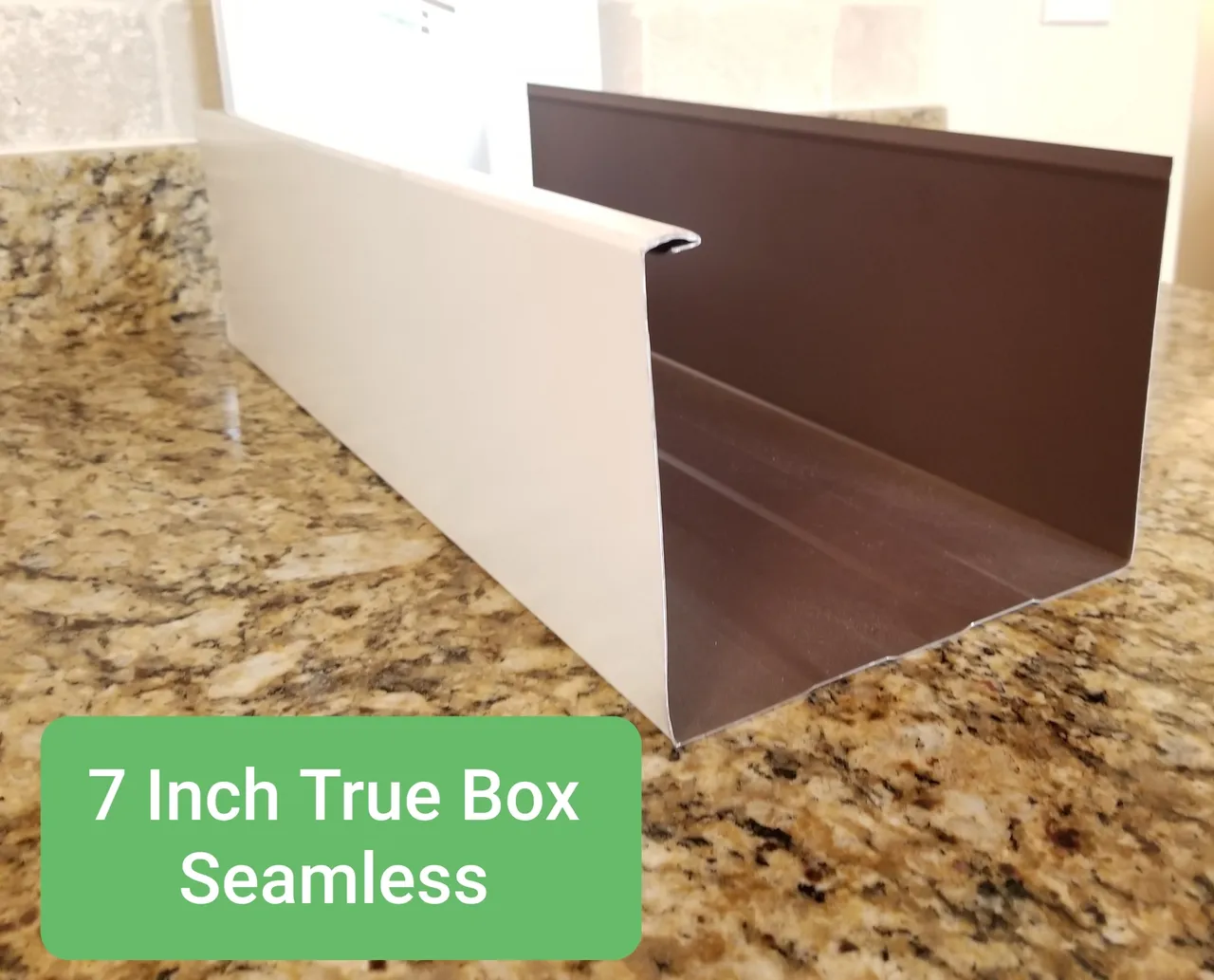 7 Inch True Box Gutters – materials are made in (.032 and .040) Aluminum 

 24 & 22 Gauge Galvalume and Steel – 20 oz Copper 

Paint Finishes – Kynar 500  & Standard Paint Finishes

Profile comes smooth or ribbed on the bottom to prevent oil canning. 

Coil Width – 18 Inches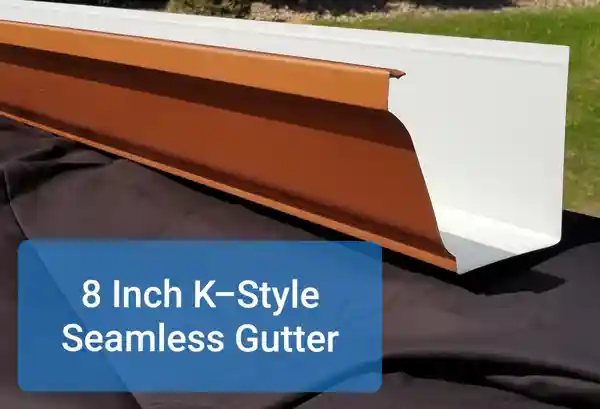 8 Inch K-Style Seamless 

Manufactured in (.050 – .040 & .032)  Aluminum 

24 & 22 Gauge Galvalume and Steel – 20 oz Copper 

Paint  Finishes – Kynar 500 or Standard Paint Finishes

Material Width 20 Inches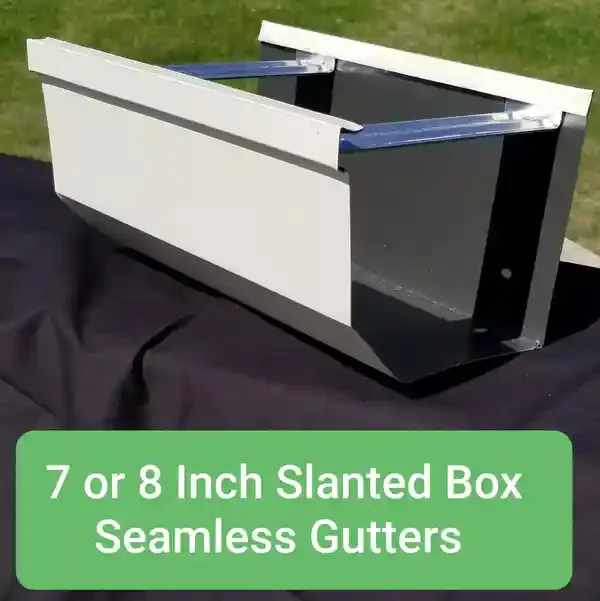 7 & 8 Inch Slanted Box Gutters
7 & 8 Inch Slanted Box 

Manufactured in (.050 – .040 & .032) – 

24 & 22 Gauge Galvalume and Steel – 20 oz Copper  

Paint Finishes – Kynar 500 or Standard Paint Finishes 

Material Width 20 Inches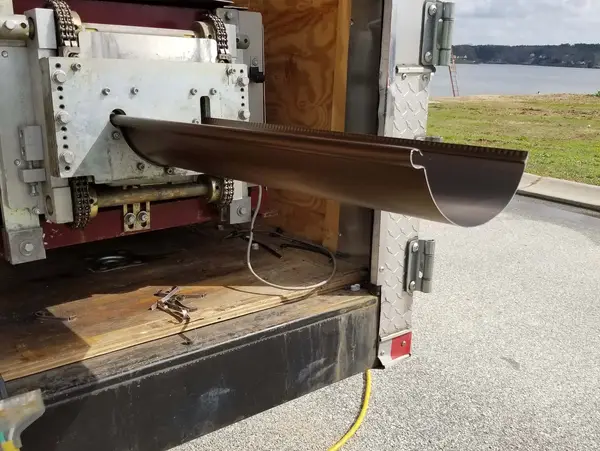 6 Inch Half Round Seamless Gutters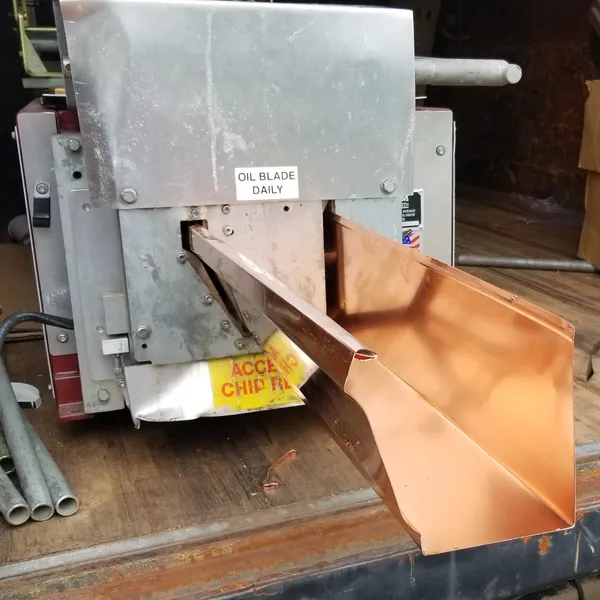 7 Inch K-Style Seamless Gutters 

Copper – Aluminum – Steel & Galvalume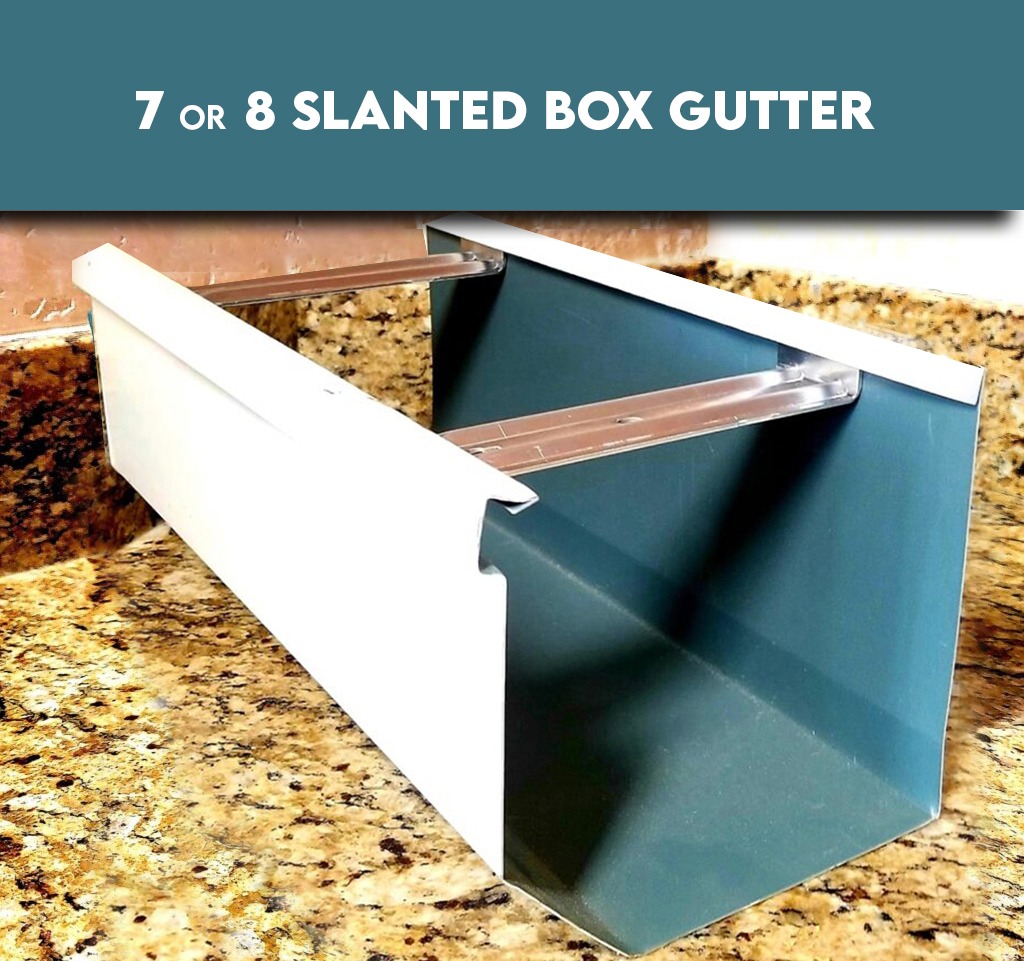 7 or 8 Slanted Box Gutter
7 & 8 Inch Slanted Box Manufactured in (.050 – .040 &.032) Aluminum 24 & 22 Gauge Galvalume and Steel – 20 oz Copper Paint Finishes – Kynar 500 or Standard Paint finishes Material Width 20 Inches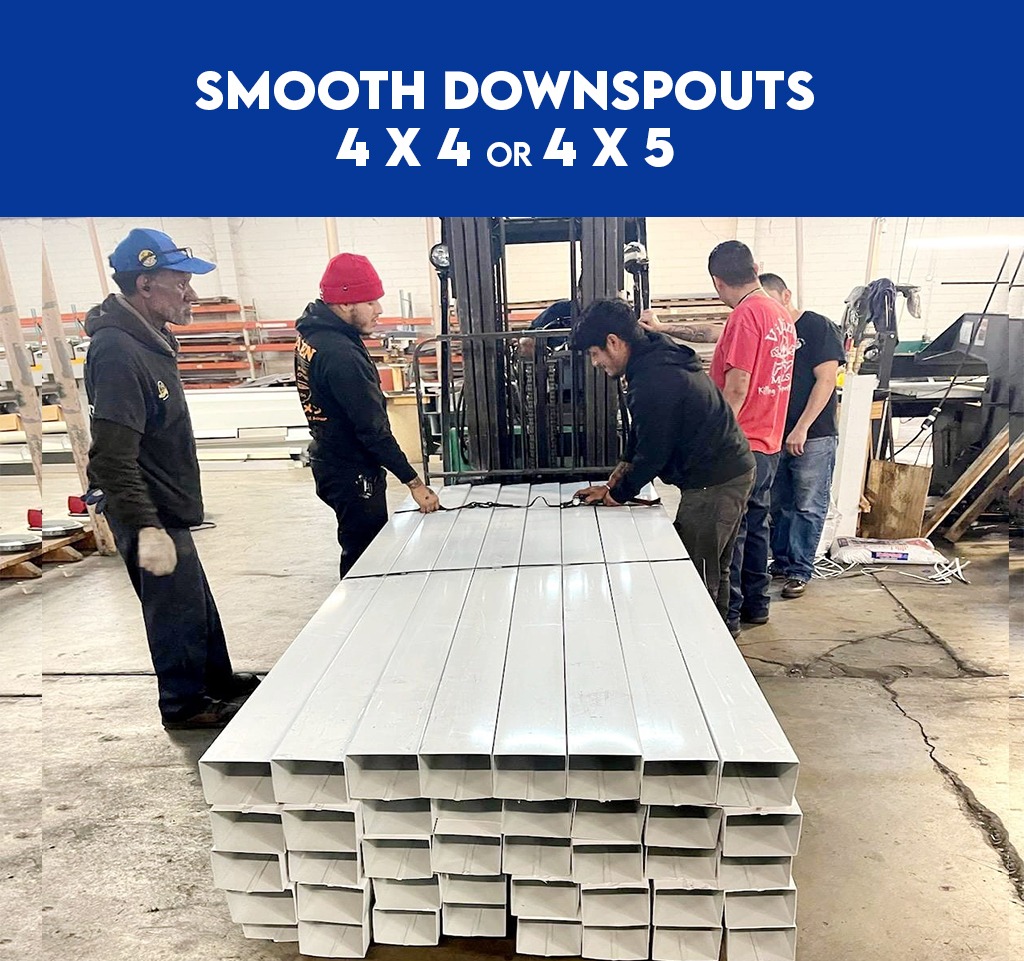 Our new smooth downspout machine makes smooth downspout and elbows with perfect factory seams, crimped downspouts, and factory elbows right off the machine. We offer 4 x 4 smooth and corrugated products.
Roofing and Gutter Contractors call us today for a material quote.
General & Home Builders reach out to us and we will do our best to answer questions about seamless bigger gutter systems.  
Box Gutters
8 Inch Gutter
7 Inch Gutters
8 Inch K-Style Gutters
4 x 5 Downspouts
4 x 4 Downspouts
Smooth Downspouts
7 Inch Commercial Gutter
Additional Information
8 Inch K-Style Gutters Gutters Lakeland FL Gutter Contractors Lakeland FL  Architects Lakeland FL
Engineers Lakeland FL Roofing Contractors Lakeland FL
Roofing Supplies Lakeland FL
Building Supplies Lakeland FL  Builders Lakeland FL  General Contractors Lakeland FL
 Apartments Lakeland FL
Condos Lakeland FL  Property Management Lakeland FL  Property Maintenance Lakeland FL 
 Winter Haven FL Seamless Gutters Seamless Gutters Winter Haven FL Gutter Contractors Winter Haven FL Architects Winter Haven FL
Engineers Winter Haven FL  Roofing Contractors Winter Haven FL
Roofing Supplies Winter Haven FL
Building Supplies Winter Haven FL Builders Winter Haven FL  General Contractors Winter Haven FL
Lakeland Seamless  Apartments Winter Haven FL
Condos Winter Haven FL  Property Management Winter Haven FL Property Maintenance Winter Haven FL
 Bartow FL Seamless Gutters Seamless Gutters Bartow FL Gutter  Contractors Bartow FL Architects Bartow FL
Engineers Bartow FL Roofing Contractors Bartow FL
 Roofing Supplies Bartow FL
Building Supplies Bartow FL  Builders Bartow FL  General Contractors Bartow FL
Apartments Bartow FL
Condos Bartow FL  Property Management Bartow FL Property Maintenance Bartow FL  
Plant City FL Seamless Gutters  Seamless Gutters Plant City FL Gutter Contractors Plant City FL Architects Plant City FL
Engineers Plant City FL  Roofing Contractors Plant City FL
Roofing Supplies Plant City FL
Building Supplies Plant City FL  Builders Plant City FL General Contractors Plant City FL
Apartments Plant City FL
Condos Plant City FL  Property Management Plant City FL  Property Maintenance Plant City FL  
 Haines City FL Seamless Gutters  Seamless Gutters Haines City FL Gutter Contractors Haines City FL Architects Haines City FL
Engineers Haines City FL Roofing Contractors Haines City FL
Roofing Supplies Haines City FL
Building Supplies Haines City FL  Builders Haines City FL  General Contractors Haines City FL
Apartments Haines City FL
Condos Haines City FL Property Management Haines City FL Property Maintenance Haines City FL  
 Lake Wales FL Seamless Gutters  Seamless Gutters Lake Wales FL Gutter Contractors Lake Wales FL Architects Lake Wales FL
Engineers Lake Wales FL Roofing Contractors Lake Wales FL
Roofing Supplies Lake Wales FL
Building Supplies Lake Wales FL Builders Lake Wales FL  General Contractors Lake Wales FL
Apartments Lake Wales FL
Condos Lake Wales FL  Property Management Lake Wales FL Property Maintenance Lake Wales FL